AMBIENT SESSION DAY ONE + TWO
ON 26 AND 27 APRIL 2019 AT THE JEWISH MUSEUM IN BERLIN MONIKA WERKSTATT PERFORMED ITS AMBIENT WERKSTATT IN VARIOUS CONSTELLATIONS INSIDE RES·O·NANT—A WALK-THROUGH LIGHT AND SOUND INSTALLATION BY THE DÜSSELDORF CONCEPTUAL ARTIST MISCHA KUBALL SITUATED IN TWO OF THE FAMOUS VOIDS OF THE LIBESKIND BUILDING.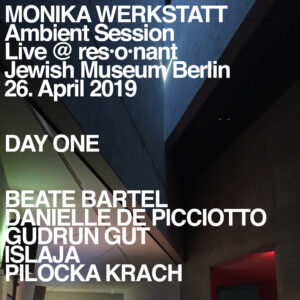 "For this specific edition Monika Werkstatt activated the joined forces of Beate Bartel, Danielle de Picciotto, Gudrun Gut, Islaja, Pilocka Krach, and Sonae. The Fab Five of Silicon-meets-Analog-Machine-Music set out to invite listeners to join them on a two-day, four hours-each expedition into the yet unknown, improvising with sounds and configurations while structuring the longue durée in sustainable packages by adding and subtracting members to the flow.When you entered the space you were immediately transfixed by the ingenious set-up. Instead of black-boxing the laboratory's machine-park Monika Werkstatt had designed this Kraftwerk in a half-circle with screens and keyboards and all facing the audience. Meaning the musicians turned their back to us but being lit by machines and having no stage whatsoever there where multiple 20th century fire-places red-blue-yellow-green-light-dioding and inviting everybody to come closer, to join, to see, to learn, giving the idea of DIY a totally new meaning. If one wanted, one could read the potential instruction manuals for all the magic that unfolded live and in real-time. There was networking at the highest level without any safety-nets, which created, at least in this listener an instantaneous feeling of bliss and thankfulness for being able to delve into this generous offer to participate in the making of. To feel embraced by the warmth of bleep-blubbering lava-streams of sounds and voices, violins and found phone-noises that were so everyday and extraterrestrial at the same time.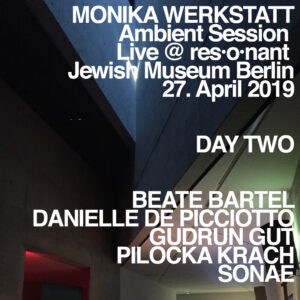 Not that some of the lava wasn't nicely packaged in perfect ice-cubes slowly melting in front of your ears while you were watching whole families deep-diving into the flow of all things acoustically possible. Thank God one thought, that some of this will be captured in a NTS Radio stream so that one could hope for recapturing some of the many moments that passed by the inner emotional landscape. That stream is still available by the way.But today, more than a year after the fact and the exhibition, what you are listening to here and now is yet another sonification of pasts that are ever-present. And this new realization of possibilities has distilled even more magic out of the mix. It almost seems as if it amplifies and focuses all that is stored in your back-end and I would be anxious to learn what it sounds like to somebody who was not there. Is my memory playing tricks on me as in: could it possibly have been THAT good? Well, sure sounds like it. There is a degree of crystallization and distillation here that brings both the communal flow and the singularity of individual contributions to the fore. This relationship is sometimes disruptive but first and foremost it seems like a magnanimous display of collectiveness that celebrates each and every individual moment. Not so much teaching us but inviting us to become a witness to the process and dialectics of creating and partnering something together in such a way that the sum is always more than the single parts. And you are a part in the play of that game and you feel that there are no mistakes, just warm blankets of participative joy. It is more than music, it is Monika Werkstatt." Markus Mueller /Bureau Mueller
DAY ONE
bandcamp | spotify | apple

"Listening to 'Day One' there are some woozy uplifts and downtunes that lurch a little like rising steeply op or down a hill in a car on a hilly road while driving at night, but for the most part, it's a glow, vaporous wash of sound that turns and drift slowly and gradually. Subtle beats appear and disappear, and everything is quiet and understated, even when clouds gather to cat shadows into darker domains, unsettling electronic bubbling, bleeps and whistles. But mostly it's a steady exploration of soft-edged atmospheres: not a lot actually happens, and yet, somehow, it does. It all happens fleetingly, subtly, in the background. There are fleeting moments of dissonance, and brief passages where patterns emerge – be they niggling bass motifs, looped vocal snippets, or repetitive rhythms of a more percussive nature, but large portions of the audio is given to abstract noise that hums and drones on an almost subliminal level." AURAL AGGRAVATION
DAY TWO
bandcamp | spotify | apple
"'Day Two' feels different. More electronic, more edgy, stammering more beeps and messages undeciphered and indecipherable stop start and shudder, juddering and halting the airwaves against gliding contrails of mellifluous drone. Sonar drones, reaching out into the darkness. Dense rumbles and fear chords creeping. This is darker, more ominous, more eerie – or at least the track is. Then again, there are rippling groves and metronomic beats that pulse amidst a swathe of reverb and murky tones. How representative of the performances as a while these segments are, we don't know." AURAL AGGRAVATION
MONIKA WERKSTATT REMIXES
FOLLOWING THE 20 TH ANNIVERSARY "MONIKA WERKSTATT" ALBUM WHICH FEATURES COLLABORATIONS FROM ALL OF THE CURRENT ARTISTS ON MOABIT AND MONIKA, GUDRUN GUT'S MONIKA ENTERPRISE NOW TAKES THE COLLABORATIVE PROCESS A STEP FURTHER WITH A COLLECTION OF REMIXES TAKEN FROM THE WERKSTATT ALBUM.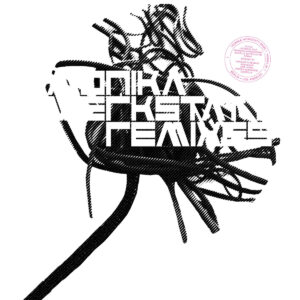 "The opening track on the single is a truly Nordic co-production with Charlotte Bendiks from Tromsø, Norway, remixing Finnish artist based in Berlin Islaja. Islaja's tracks are ever shrouded in a bizarre sense of mystery and Bendiks remix of Sappho's Gifts accentuates the surreal essence of this piece. Blindholes by Columbian-artist-in-Berlin Lucrecia Dalt was the first track from the Monika Werkstatt album to be released as a preview and Romanian producer and DJ Borusiade harnesses its groove turning it into a hypnotic industrial stomper. The B-side starts with LA producer Nite Jewel's utterly funky take on Barbara Morgenstern's song Grow. Suitably for Morgenstern, Nite Jewel turns this tune into next level pop including disco cowbells and the grooviest of synth licks. A feelgood track if ever there was one – ideal for house parties, or just dancing round the house on your own! London-born, Berlin-based artist Perera Elsewhere (signed to FoF music in Los Angeles) a.k.a Sasha Perera (ex-Jahcoozi/ Bpitch Ctrl/ Kitty Yo) develops Love Parade founder Danielle de Picciotto's Desert Fruit into a doom-drenched piece of beat poetry layered with rich synth textures, emotionality and Morricone-esque melodics. Closing the 12" is another Los Angeles producer, Daedelus (Brainfeeder/ Anticon), who's take on Sonae's Between Two Worlds is a luscious retro-futurist synth escapade traversing the fields of wonky, dreamwave and chill-out." Dirk Markham
bandcamp | spotify | apple | anost
MONIKA WERKSTATT LP
SUMMER 2016: TEN SOLO ARTISTS MET IN A STUDIO ON THE COUNTRYSIDE CLOSE TO BERLIN AND MAKE MUSIC TOGETHER. FREE AND WITHOUT A CONCEPT- STILL FULL OF THE MONIKA WORSHOPS THEY EXPERIENCED THE TIME BEFORE, JUST LET GO. THE WERKSTATT IN THE STUDIO. 3 DAYS OF EATING, TALKING AND IMPROVISING TOGETHER. AFTER LISTENING TO THE RECORDINGS EACH ARTIST TOOK A TRACK HOME TO DEVELOPE AND FINISH THE PRODUCTION.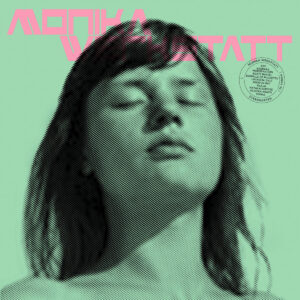 "Are you for real? Does anyone out there really think that artists could be involved in a project that bestows total freedom in 2017? Isn't today's reality that society and what is left of creativity are being forced to bow to the pressures of neoliberalism and are being undermined by politicians with their largely awful agendas? Hasn't creativity been reduced to wages and money versus time and art? However, it's too easy to just peek out of our caverns at a world overshadowed by dark clouds and leave it at that. Because at the same time, don't we still believe that, against all odds, anything is still possible if you're surrounded by an exemplary group of like-minded people? Gudrun Gut, the artistic powerhouse behind labels Monika Enterprises and Moabit Musik is a musician with an extraordinary legacy – be it as a member of Berlin's legendary act Malaria, OceanClub, her acclaimed solo projects or recently a collaboration with Faust's Hans Joachim Irmler. Gudrun Gut has a proven track record of successfully connecting with like-minded artists on unusual paths of creativity. She´s an outstanding example of someone who refuses to compromise their artistic vision. And now she is ready to present one of her most ambitious projects ever: Monika Werkstatt – a loose collective of female artists set up to enable each of them to achieve new goals through collaboration. Monika Werkstatt will ensure that their artistic output gains visibility in an art context still too dominated by men. Monika Werkstatt has its origins in collective workshops and in shared interactions. By sharing their own challenges and achievements later on with an audience, this opened a gateway to a further feedback and creative dialogue. Every moment, every gesture, every communication has been about empowerment, both individually and as a group. History has a weakness for coincidences, and the release of "Monika Werkstatt" happily falls on the 20th anniversary of Monika Enterprises. A fantastic landmark and a means of celebrating such a tremendously talented collective that Gudrun Gut has orchestrated.
So what is this release really about? Gudrun's fellow Monika members – AGF, Beate Bartel, Lucrecia Dalt, Danielle De Picciotto, Islaja, Barbara Morgenstern, Sonae, Pilocka Krach – travelled from Berlin and assembled in the creative oasis of Uckermark. The goal was to create and record without any of the usual pressures and distractions that you'd anticipate in a group context. To keep the focus, Mo Loscheider cooked, Manon Pepita assisted with the day to day and Lupe was filming. Uckermark became a kind of utopia for them. Between recording and jamming, their days were filled with music, eating, short walks in the fields and forests resounding with inspiring talks and discussions. Without any restraint or rules, they opened up new forms of interaction and creative dialogue which found themselves falling into a process without any clear beginnings or ends. The result? Hours and hours of new from this uplifting gathering. Once the recordings were completed, representatives of the group were delegated roles for a finished production – some sequenced and mixed the recordings into their own tracks, while others built their own from the material recorded. The results succeed in showcasing the community as a group, as well as portraying singular pieces of art derived from a collective process. Berlin-based Barbara Morgenstern opens up the album with "Grow" – a hypnotic jam that recalls the beauty of Kate Bush and lyrically captures the "Monika Werkstatt" atmosphere perfectly. "And the light will fall onto us / And the wind will blow for us / And we will grow with us / And the landscape will form us / And the night will wait for us / And the rain will sing with us / And we will grow for us / And we will grow with us" From a melange of ambience, improvisation and song we are treated to a double album that features 25 shining stars. Keeping to their motto of total freedom, the range of styles and sounds are very diverse. Some of the contributors prefer to reflect room and space such as like Nathalie Beridze (who was invited as a producer) with "Doodle" and "Hit Bottom" or "Feuerland" by Beate Bartel, others walk on industrial ground like Lucrecia Dalt with "Blindholes". Beate Bartels other contribution "M.B.T." is prime for the club whereas AGF continues to prove herself as one of electronic music's coolest musicians with "Ninjaness". Gudrun Gut takes listeners on a magnificent journey into dub with "Repetition", whereas Danielle De Picciotto delivers mighty sound collages with "Ikarus" and Desert Fruit" – taking a powerful lyrical approach that almost feels that you are listening to the gospel of nature. And then there is "Between Two Worlds" by Sonae – its hard to believe that its only 4 minutes long as the story one hears appears to be so much longer and bigger. The piece recalls "Blow Up" by Michelangelo Antonioni – an amplified excursion that multiplies the sounds of a meadow. Listeners can pick up on all the noises and scratches that emit from under her feet. A natural drone symphony. Changing pace for the second half of "Monika Werkstatt", Pilocka Krach asks a crucial question with "Who's Afraid Of Justin Bieber?", right before Islaja starts making mystical gestures with "Sappho's Gifts". Try as you might, you'll not be able to second guess a moment of "Monika Werkstatt". By giving everyone, both group and individual, freedom of creativity these musicians have really charted new territory. I would be lying if I said I wasn't jealous to have not been on Sternhagen Gut while the magic happened. There is so much more that could be said about the feelings, ideas and stimulations within this inspiring collection but its time for you to take a listen for yourself. These are only my thoughts and they count no more than your own. Working together, we get a bigger understanding of this picture called life. And remember, we all have the right to live according to our dream of total freedom. Life is too short to be told what we should or should not do when it comes to art. Or indeed, anything else. So, meet the creative collective, and feel the empowerment that goes by the name of Monika Werkstatt!" Thomas Venker